Flying Insects
Flying insects greatly affect the enterprise and the people working in it, therefore, the fight against them is necessary to maintain public health both in residential areas and enterprises, so preventive measures must be strictly followed in order to avoid the appearance of these insects. 

If you work in an organization suffering from this serious problem, your organization needs a specialized company that works to provide solutions that control this problem periodically, quickly and with high quality and be fully prepared for emergency situations at any time within 24 hours and also limit the spread of this phenomenon, then your choice is the right to eliminate insects and pests with the help of  quick response company in the kingdom of Saudi Arabia
It is a group of living organisms that have many different forms, have diverse features and characteristics, and the types of insects have been estimated to approximately 6 to 10 million species of insects on the surface of the globe, and their types vary in size, shape and behavior, and now we will talk about their types in a detailed way and from these the following:
Flies
flies are one of the most important types of flying insects commonly found in all places, whether workplaces or homes, they feed on garbage, sewage waste and exposed foods, and the elimination of flies is done with good cleaning and the use of an effective insecticide to kill them.
Mosquitoes
look like flies, have a head and feed on human blood, so they stand on the surface of the skin and bite, one of the most important causes of diseases such as malaria and its elimination is by spraying insecticide.
Don't worry, quick response is the perfect solution to eliminate this problem, and now we have to get to know this company and the way to communicate with it.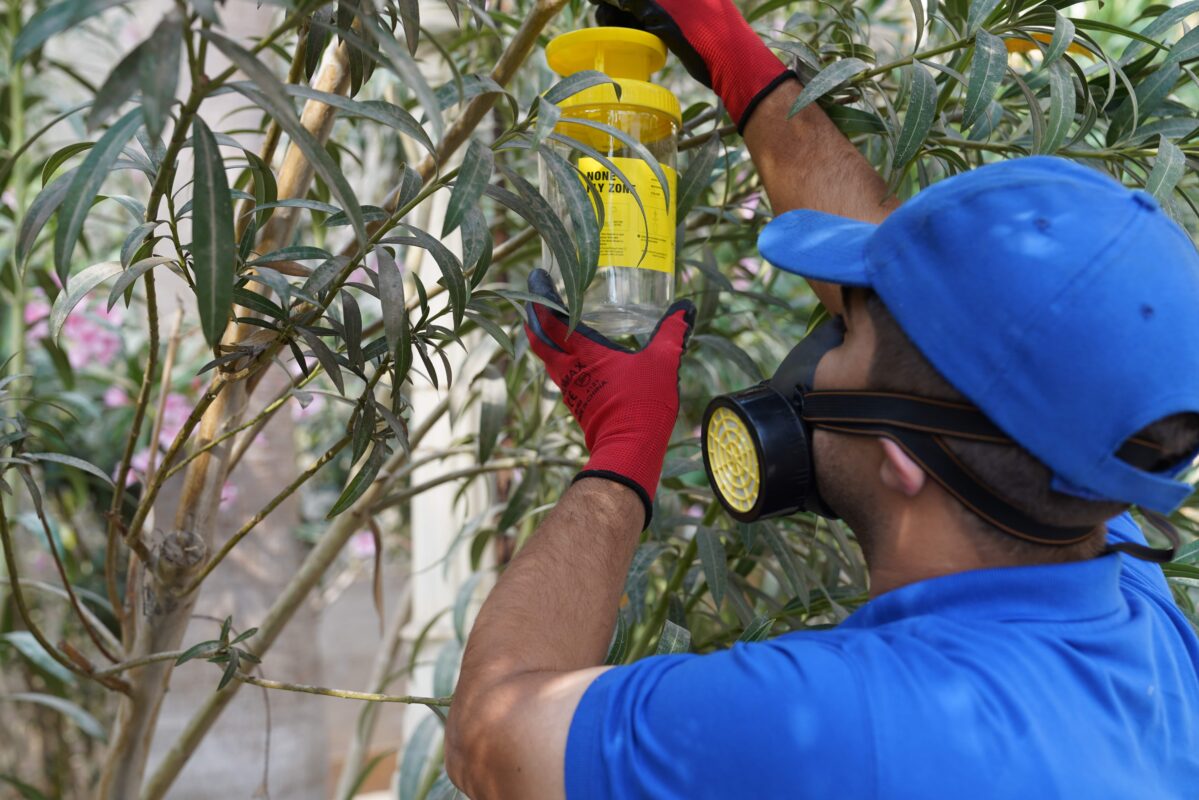 Services provided by Quick Response Company to combat flying insects
The flying insect control service is important to reduce this phenomenon, which portends disasters in the long run, so quick response company provides many comprehensive services to combat insects and pests such as prevention, regular maintenance and treatment of floors, walls, ceilings and damaged areas in institutions and companies from the problem of flying insects.
 Among the ways that the company pursues to combat flying insects are the following:
Smoke and fogging
Strong smoke from insecticides is released into the air, this smoke reaches all hard-to-reach places and all flying insects are killed.
Low volume chemotherapies (ULV)
ULV treatment: one of the methods used by quick response to eliminate flying insects is the use of light fumigation in indoor areas to kill flying insects.
Baits
It is a combination of multi-use baits, used by the control team to eliminate flying insects in public places such as commercial, industrial and residential areas.
Flies pick up lethal doses from surfaces sprinkled with baits, such bait is used at the beginning of warm seasons.
The flycatcher
One of the environmentally friendly ways to combat flying insects is a bag that emits odors that attract flying insects to the food inside, flying insects enter from the hole at the top of the bag and are trapped inside and cannot get out again.
The importance of insect control 
There are other dangerous aspects caused by insects, but they are annoying, including the health problems they cause to people, as they become carriers of diseases, whether human or animal, when insects carrying pathogens touch our surroundings and bite humans or animals, they transmit germs and microbes and then spread diseases, some of these diseases are dengue fever, diarrhea, cholera, typhoid and malaria.

In general, the importance of the pest control service is great to get rid of They can cause serious damage within your organization which are as follows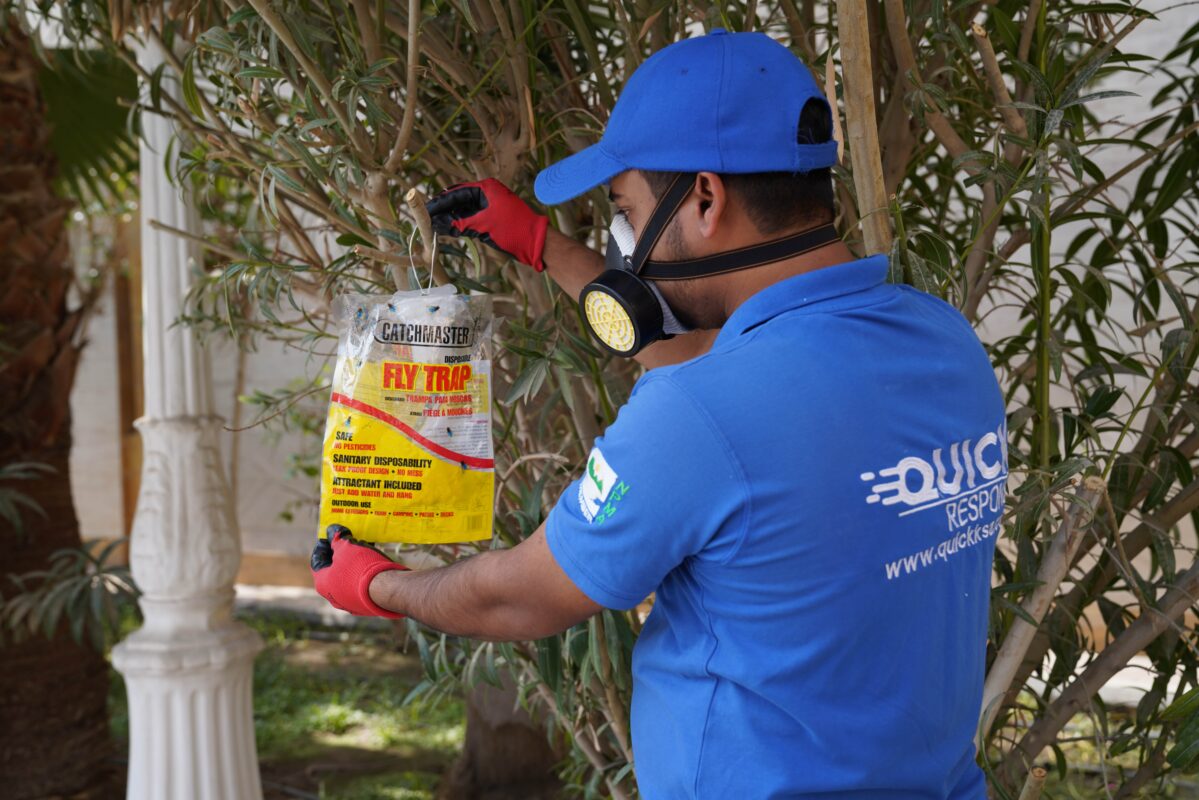 Steps to combat the problem of flying insects
Eradicating the problem of the appearance of flying insects requires careful repetition, provided that a thoughtful and systematic plan to deal with the problem is developed beforehand, in order to ensure that there are no losses resulting in health and material damage.
In order for the organization to ensure that the service provider addresses this dangerous problem, it is shown by the company following are the correct steps to combat the problem of flying insects :
1- Examination: a thorough and integrated examination is carried out to identify the affected areas and the potential danger from them.
2- The plan designed to combat insects: a thoughtful and accurate plan is developed to ensure the elimination of this problem and avoid its reappearance.
3- Monitoring: since the control process is a continuous process, it is necessary to constantly monitor the soil of the facility to monitor the activity of insects in order to protect against their appearance and help eliminate the existing ones.
4- Follow-up: continuous follow-up is very important, as it effectively controls the elimination of the phenomenon of flying insects currently and in the future, and this is done by coordinating soil specialists with employees to be informed of any operational changes.
5- Internal treatment: a comprehensive examination is carried out to identify the endemic areas and the potentially endemic areas and are treated and given preventive treatment. 
6- External processing: it is carried out along the building from the outside and any possible points, the most important of which are garbage areas.
7- General insect control: general prevention and general elimination of insects.
8- Fogging: one of the basic steps to combat flies, mosquitoes and other insects that cover large areas.
9- Treatment with an ultrafine spray device: efficiently eliminates flying insects such as flies and mosquitoes.
Following these steps are strong and key indications that the flying insect control service that is offered to you is of high and excellent quality.
In order to be familiar with the topic and all its details and aspects, you need to familiarize yourself with the basic information flying insects, their types and the damage caused by them, in the next part we will get acquainted with all this.
About quick response pest control company
It is a specialized company for the control of harmful pests and their final disposal to reduce the serious damage caused by these insects, based in the kingdom of Saudi Arabia and is considered one of the most important leading companies in this field, the company provides environmental services to fight insects through the latest technologies and equipment and provides specialized and trained teams using safe and effective materials.
The company provides its services to enterprises from companies, factories, restaurants, hotels and residential complexes.
Means of communication with Quick Response Company
You can very easily contact quick response if you have any queries or questions, through several methods, including the following:
By e-mail, please contact us.
By phone number+966547688895
By going to the company's headquarters and its address is Prince Fawaz Street, Saudi Arabia.
You can also follow the company through social media to get all the latest news about it.
conclusion
In the end, Quick Response Company is one of the strongest companies in the field of insect extermination and in this article we have provided you with a thorough explanation about the company, its services and the damage of flying insects, you can order your service anywhere within the kingdom of Saudi Arabia and we will reach you wherever you are.